The featured image this month is beautiful bed and breakfast design by Jelle Segeren from 

Studio SGRN

. Check out the full resolution version here, or click below to see additional images on the What's New page:
The next Podium release will add support for HDRI backgrounds and image based lighting in SU Podium.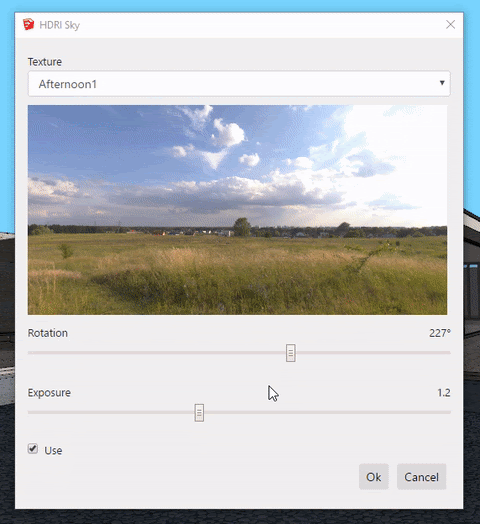 Users will be able to choose from a selection of pre-installed HDRI skies, or upload and use any externally sourced HDRI background.
HDRI lighting provides a versatile alternative to the two Podium sky simulations and a quick, easy method for look development in your renders.
Stay tuned for news about the coming update!

Podium Image Editor will soon have a new one-click HDR tonemapping option called "Adaptive linear." This is a histogram normalization function designed to fix exposure problems without losing your highlights and shadows.
By rendering to HDR and selecting the adaptive tone map, a vastly underexposed render can easily be pulled into an acceptible luminance range while enhancing areas of local contrast.
This provides a much better base for further post-processing and prevents the need to re-render an image that probably would not have been salvageable without the added robustness of the HDR format.
Last reminder — Users who already own an SU Podium license can still get ProWalker GPU at a reduced price of $99 until 

July 31st, 2018

.

That's plenty of time to test the 30 day trial and see how ProWalker's intuitive, GPU based workflow can benefit your visualization business! (Windows only)
Reminder – ProWalker V1.1.5 was released last month.
This update added shadow/timelapse animation, better LEM support, fade and crossfade transitions, keyframe easing, and incorporated recent updates to the NVIDIA denoiser. Download the update here.
ProWalker saves every animation frame as a still image in case the render needs to be paused or interrupted.We have released a lightweight MP4 encoding application that can convert a sequence of still images into an MP4 movie file. Download Movie Maker here.
There are minor interface issues when using SU Podium on ultra-HD (4k) monitors, particularly on 4k laptops with Windows magnification set higher than 200%. The best suggestion is to keep magnification around 150% if necessary. Read more here.
This month's uploads include additional livingroom assemblies, and new bedroom furniture, decorations, and assembly sets.
Additional living assemblies
20 new bedroom assemblies
New bedroom furniture
Most of the beds, desks, furntiure, and decor from the new bedroom assemblies are new to the Browser library, and have also been added as individual components.
Misc furniture and lighting
Podium Browser contains over 16,500 high-quality models: furniture, light fixtures, plants, and more. All pre-configured with SU Podium materials and textures, and redy to render at the click of a button.